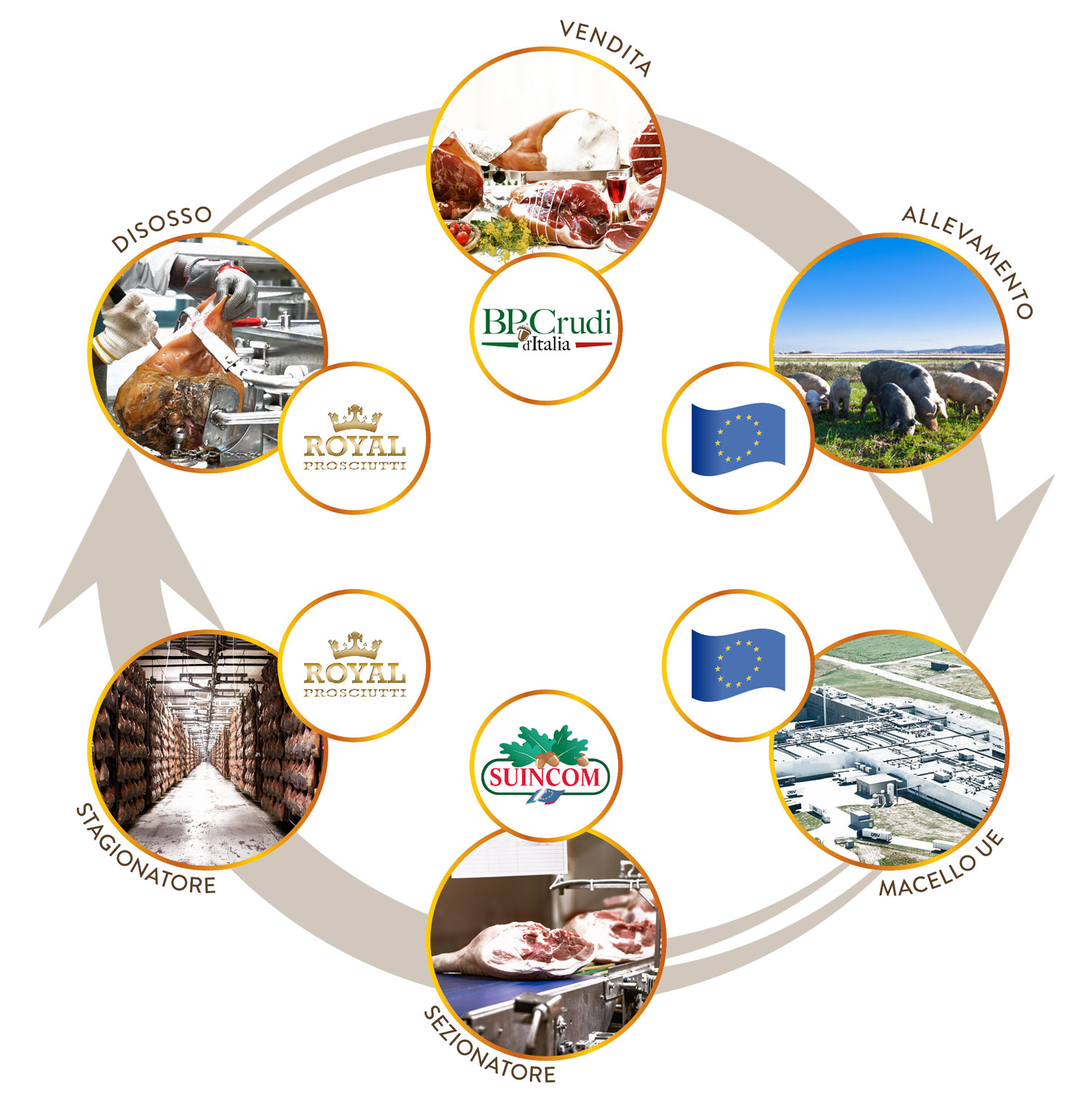 The experience and positioning of the Suincom Group among the leading companies in the sector determines a philosophy of constant attention to the high level of product quality.
The working process starts from the processing and cutting of fresh raw material at Suincom in Castelvetro di Modena, to curing in the Royal Prosciutti plant in Sala Baganza (Parma), up to the deboning, packaging and marketing operated by BP Crudi D'Italia.
This is how the Group is able to guarantee its customers cured raw hams that have the following characteristics:
complete control of the supply chain;
hygienically controlled product compliant with the highest standards: careful selection of raw materials, specialization and training of personnel, advanced technology of production lines;
maximum commitment at all company levels, for the development and maintenance of a profound culture of food safety with a view to continuous improvement and increasing attention to the customer;
constant quality;
product always compliant with the required characteristics;
punctual and precise service;
constant search for excellence and improvement of production performance.
BP Crudi D'Italia provides its customers with products processed in production units that ensure the scrupulous application of the HACCP self-control principles, in addition to the profound culture of food safety and quality, guaranteed by the voluntary IFS and BRC certifications. In fact, these standards offer a series of guidelines for the production of safe food and for the management of product quality, in order to fully meet customer expectations.
The certification of compliance with the Standards is widely recognized globally both for the requirements of food safety and quality, as well as for the operational criteria that determine the fulfillment of all obligations under current regulations and consumer protection. The application of the BRC and IFS standards is therefore a necessary prerequisite for exporting one's products.
The company policy is also based on respect for workers' ethics, environmental ethics as well as on a constant commitment to reducing food waste.